CrossFit WOD Sunday Nov 19th, 2017
Announcements
1 – Pre order winter gear ends Tuesday at 9pm
2 – Please view wodify class schedule for Thanksgiving Break (Wednesday – Sunday); ALL programs are encouraged to attend the Community WOD Fri & Sat and the workouts are scalable for all levels of fitness.
3 – Turkey Trots are going on all over on Thursday. If you are interested please jump on our private Facebook group and let the crew know.
4 – Have a safe and wonderful Thanksgiving and travel safely for those already in motion!
CFR Cape Fear, CFR Hampstead, CFR Leland, CFR Wilmington – CrossFit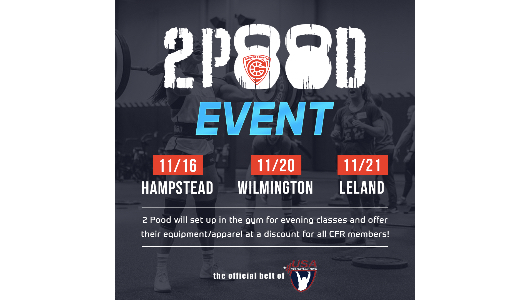 Warm-up
15 min continuous effort of…
2 Rounds:
1:00 Assault Bike

20 Air Squats

15 Kip Swings

10 Leg Swings Each Leg
With an empty Barbell:
10 Front Squats

10 High Hang Squat Cleans

10 Low Hang Squat Cleans
A: Metcon (Time)
A. 3 round for time
50 Toes to Bar (scale to v-ups)

25 Power Cleans (135/95# – scale to do sets of 7-10 at a minimum)
Time Cap 18 min
Post Workout Cool down & Mobility 20 min