CrossFit WOD Thursday Nov 23rd, 2017
Announcements
1 – Pre order winter gear ends Tuesday at 9pm
2 – Please view wodify class schedule for Thanksgiving Break (Wednesday – Sunday); ALL programs are encouraged to attend the Community WOD Fri & Sat and the workouts are scalable for all levels of fitness.
3 – Turkey Trots are going on all over on Thursday. If you are interested please jump on our private Facebook group and let the crew know.
4 – Have a safe and wonderful Thanksgiving and travel safely for those already in motion!
CFR Cape Fear, CFR Hampstead, CFR Leland, CFR Wilmington – CrossFit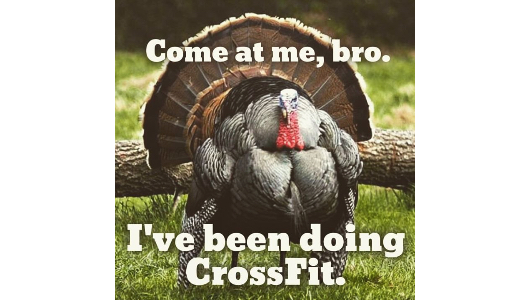 If you were unable to make the Turkey Trot don't worry here is a at home version for you:) Have a wonderful Thanksgiving. Thank you for all your support and love.
A: Metcon (No Measure)
A. Running (25 min total time)
10 Minutes Easy Pace (Conversation Pace)

+

10 Minutes Tempo (Hard, Steady Pace)

+

5 Minutes Easy Pace (Conversation Pace)
Then,
8 x 100m Strides
*Strides are meant to be run at about 75% effort taking as big of steps as possible. Complete 1 every :45-1:00 for 8 sets.
Post Workout Cool down & Mobility 20 min