Community WOD Saturday Nov 25th, 2017
CFR Cape Fear, CFR Hampstead, CFR Leland, CFR Wilmington – CrossFit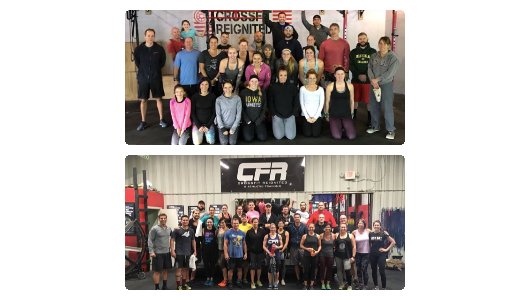 So thankful for this community! #brianforgotlelandspicture
WU: Reignited Warm Up (No Measure)
A. General Warm Up (Bike, Ski Erg, Row, Run)
B. Dynamic Joint (Movement Prep)
C. Energy System Warm Up (Aerobic/Anaerobic)
D. Specific Movement Warm Up
A: Metcon (AMRAP – Reps)
A. For max reps in teams of 2
1 min ON

1 min OFF

x 4 rounds PER movement

(32 min ongoing clock)
1 – Max Rep (RX DU; L1 SU)

2 – Max Cal (RX AB, Ski, Assault Run, or Row)

3 – Max Rep (alternating arm DB Snatch (RX 50/35#; L1 35/20#)

4 – Max Rep Burpees
*Score is total amount of reps per person

* Each athlete (team of 2) will perform 4 rounds each at each station

*One person works while the other rests.

* Start groups on each of the 4 stations.

* Teams stay at their station for 8 minutes before rotating. This is a 32 minute workout.
B1-2: Metcon (No Measure)
B1. Half Kneeling Banded Face Pulls; 10 reps with 2 sec pause at forehead
rest as needed
B2. Banded Good Mornings; 10 reps
x3
Post Workout Cool down & Mobility 20 min