CrossFit WOD Tuesday Jan 2nd, 2018
Announcements
Upcoming Events at CFR
Jan 6th Weightlifting Clinic with James Tatum
Jan 28th CrossFit Kettle-bell Speciality Course
Sign up today @ CROSSFITREIGNITED.COM under the UPCOMING EVENTS TAB!!
CFR Cape Fear, CFR Hampstead, CFR Leland, CFR Wilmington – CrossFit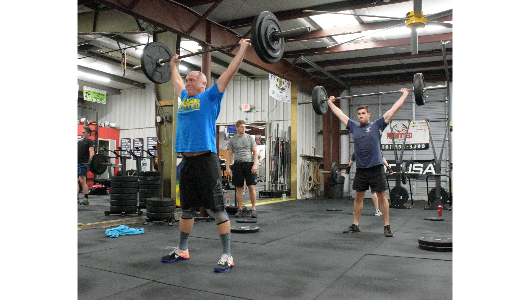 Going up on a Tuesday!
WU: Reignited Warm Up (No Measure)
A. General Warm Up (Bike, Ski Erg, Row, Run)
B. Dynamic Joint (Movement Prep)
C. Energy System Warm Up (Aerobic/Anaerobic)
D. Specific Movement Warm Up
Skill Practice
Clean (5 reps of each, one time through the complex with PVC, 15# Trainer Bar or Empty Barbell)
Clean-Grip RDL

Clean Pull from Below Knee

Front Squat

Hang Power Clean + Push Press

Clean from Below Knee + Jerk
(* Below with 115/75#)

+

Power Clean (no foot movement) + Push Press x 3 reps

x2

+

Power Clean + Push Jerk x 3 reps

x2

+

Clean + Split Jerk x 3 reps

x2
* Goal of the jerk is to maintain height of the bar while driving up and pressing yourself into the receiving position!
A: Clean and Jerk
A. Every 3 minutes, for 12 minutes (4 sets):
Squat Clean x1 + Front Squat x2 + Jerk (any style)
*Sets 1-2 = 1 rep @ 81% 1rm
*Sets 3-4 = 1 rep @ 84% 1rm
When the running clock reaches 12:00…
Every 2 minutes, for 4 minutes (2 sets):
Squat Clean & Jerk x 1 rep @ 91% 1rm
B: Metcon (Time)
B. For time
Rx+

30-20-10

DB Thrusters (50/35#)

Toes to Bar
Rx

30-20-10

DB Thrusters (35/20#)

Toes to Bar
L1

30-20-10

DB Thrusters (20-35/10-20#)

DB Foot Anchored weighted Sit Ups (20/14# medicine ball; touches floor behind head and DB's each rep)
Time Cap 20 min
Post Workout Cool down & Mobility 20 min