CrossFit WOD Wednesday Jan 3rd, 2018
Announcements
Upcoming Events at CFR
Jan 6th Weightlifting Clinic with James Tatum
Jan 28th CrossFit Kettle-bell Speciality Course
Sign up today @ CROSSFITREIGNITED.COM under the UPCOMING EVENTS TAB!!
CFR Cape Fear, CFR Hampstead, CFR Leland, CFR Wilmington – CrossFit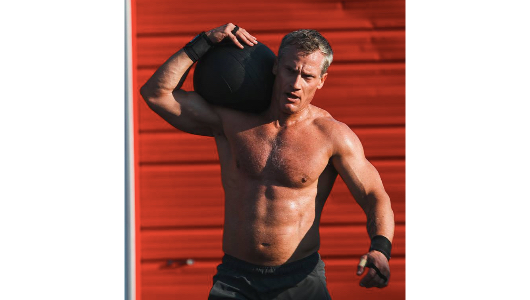 Happy Wednesday. Here we have a 2x Reignited Games Athlete Robert Hood making that Dball look light!
WU: Reignited Warm Up (No Measure)
A. General Warm Up (Bike, Ski Erg, Row, Run)
B. Dynamic Joint (Movement Prep)
C. Energy System Warm Up (Aerobic/Anaerobic)
D. Specific Movement Warm Up
Skill Practice
Snatch with PVC, 15# Trainer Bar or Empty Barbell
(5 reps of each, three times through the complex)
Snatch-Grip RDL

Snatch Pull from Below Knee

Muscle-Snatch

Overhead Squat

Snatch Push Press

Snatch Balance (fast to receiving)

Hang Power Snatch

Snatch from Below Knee
A: Snatch
A. Snatch tech work;
14 min ongoing clock
Every 2 minutes, for 10 minutes (5 sets):
Snatch x1 + Hip Snatch x1
*Sets 1-2 = 2 complexes 64% 1rm snatch
*Sets 3-5 = 2 complexes @ 68% 1rm snatch
Immediately followed by…
Every minute, on the minute, for 4 minutes (4 sets):
Squat Snatch x 2 reps @ 75-80% 1rm
Video Demo of Hip Snatch: https://catalystathletics.com/exercise/394/Hip-Snatch/
* Know your % before coming into class please to keep things moving along!
B: Metcon (4 Rounds for time)
B. Every 6 minutes, for 24 minutes (4 sets):
Rx+

20/15 Cal Run/Row/Ski/Bike

12 Shoulder to Overhead (185/125#)

9 Muscle-Ups

20/15 Cal Run/Row/Ski/Bike
Rx

20/15 Cal Run/Row/Ski/Bike

12 Shoulder to Overhead (155/105#)

9 Muscle-Ups

20/15 Cal Run/Row/Ski/Bike
L1

20/15 Cal Run/Row/Ski/Bike

12 Shoulder to Overhead (95-135/65-85#)

12 CTB or 15 Chin Over Bar Pull Ups or 10 Beat Swings + 10 Jumping Pull Ups (games standard)

20/15 Cal Run/Row/Ski/Bike
* Pick a different machine to start and finish each round. Keep the same machines throughout all sets for consistency

* Coaches stagger athletes every 2 min
Post Workout Cool down & Mobility 20 min
Coaches Notes
Coaches after the metcon and before class is over demonstarte these movements for those who have time to complete independently
C1. Single Arm Dumbbell Row x 6-8 reps each arm @ 2112

(2 second squeeze at the top)

Rest 30 seconds

C2. Standing Single-Arm Dumbbell Press x 6-8 reps each arm @ 2121

Rest as needed

x4