CrossFit WOD Wednesday Jan 10th, 2018
Announcements
Upcoming Events at CFR
Jan 6th Weightlifting Clinic with James Tatum
Jan 28th CrossFit Kettle-bell Speciality Course
Sign up today @ CROSSFITREIGNITED.COM under the UPCOMING EVENTS TAB!!
CFR Cape Fear, CFR Hampstead, CFR Leland, CFR Wilmington – CrossFit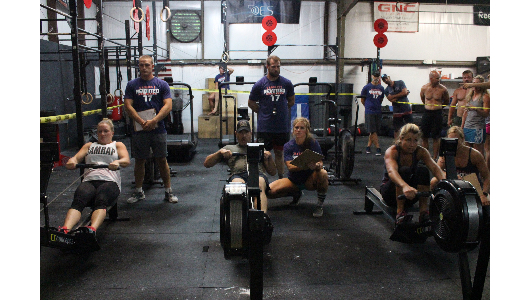 #startyourengines #jackie
WU: Reignited Warm Up (No Measure)
A. General Warm Up (Bike, Ski Erg, Row, Run)
B. Dynamic Joint (Movement Prep)
C. Energy System Warm Up (Aerobic/Anaerobic)
D. Specific Movement Warm Up
A: Jackie (Time)
For Time:

1000m Row

50 Thrusters, 45#

30 Pull-ups
L1/Foundation/Silver Linings
1000m Row

50 Wall Balls (14/10#; 10/9′)

40 Alternating DB Renegade Rows (20/10#)
Video demo for renegade row: https://www.youtube.com/watch?v=PJpTBj4ilZw
Time Cap 15 min
B: Front Squat
B. Front Squat @32×1 tempo
3 Front Squats every 2nd min on the min for 12 minutes (6 sets)
* Build the first three sets, with the goal to go as heavy as you can handle for the final three sets.
Post Workout Cool down & Mobility 20 min