CrossFit WOD Saturday Jan 13th, 2018
Announcements
Upcoming Events at CFR
Jan 6th Weightlifting Clinic with James Tatum
Jan 28th CrossFit Kettle-bell Speciality Course
Sign up today @ CROSSFITREIGNITED.COM under the UPCOMING EVENTS TAB!!
CFR Cape Fear, CFR Hampstead, CFR Leland, CFR Wilmington – CrossFit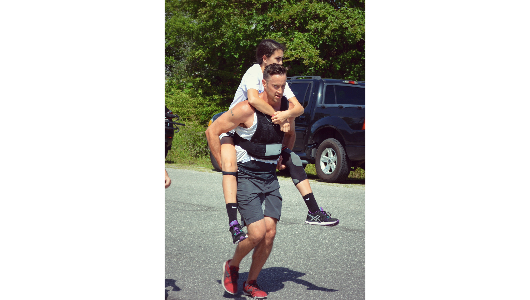 Weighted vest and buddy carries are RX++
Skill Practice
Coaches skill development for the Bench Press & Burpees over bar
Discuss proper set up for the bench (Foot, head, hands, elbow positions to ensure maximal tension and strength throughout the lift)

+

Discuss Burpees over bar and different variations than can be use to conserve energy and move "better". Also address two foot take off and chest to floor standards.
A: Bench Press
A. Bench Press; build to a tough triple
3 on the 2nd for 12 minutes (6 sets)
* Build to a heavy triple for the day
B: Metcon (Time)
B. For time
In teams of 2
Buy In 400m Run (as a team)

+
Rx+

42-30-18

Deadlift (275/185#)

21-15-9

Synchro Burpee Over Bar
+

Cash Out 400m Run (as a team)
Rx

Deadlift (225/155)

L1

Deadlift (135/95#)
Time Cap 30 min
* Teams may split up the reps as needed

* Chest must touch the floor at the same time on the synchro burpees over bar.

* Both athletes must jump over the bar with a two foot take off but does not have to be in sync on the jump
Post Workout Cool down & Mobility 20 min