CrossFit WOD Tuesday March 13th, 2018
Announcements
Upcoming Clinics at CrossFit Reignited
Sign up at crossfitreignited.com today!
April 7th & 8th – CrossFit Level One Trainer Course
East Coast Wars
June 16th
Male/Female comp (teams of 2)
Sign up through Wodify today!
CFR Cape Fear, CFR Hampstead, CFR Leland, CFR Wilmington – CrossFit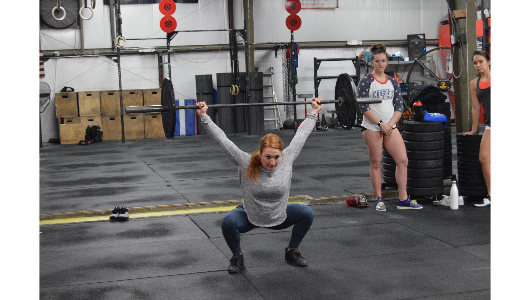 Join Coach Deidre for Olympic Weightlifting Tuesday, Thursday, and Saturday!
WU: Reignited Coach WOD Prep (No Measure)
A: Back Squat
A. Back Squat
Every 2 minutes, for 12 minutes (6 sets):
6-4-2-1-1-Max reps at 4th set's load
* Goal is 70-85% 1rm

* Build as you go.

* For the 6th set drop down in weight to what you hit for your fourth and perform max reps with FULL range of motion (use a spotter if necessary).

* Record max reps
Coaches Note:

Max reps sets terminate with any excessive pausing at the top of the lift. The athlete should take no more than 2 seconds at the top of the lift to breathe, brace and start their descent for the next rep.
B: Metcon (Time)
B. For time
Rx

30/20 Calorie Assault Bike or 40/30 Calorie Row/Ski

30 Down Ups (burpee no jump)

30 Thrusters (115/80#)

30/20 Calorie Assault Bike or 40/30 Calorie Row/Ski
L1

30/20 Calorie Assault Bike or 40/30 Calorie Row/Ski

30 Down Ups (burpee no jump)

30 Thrusters (85/60#)

30/20 Calorie Assault Bike or 40/30 Calorie Row/Ski
* No cap

* Coaches stagger athletes in heats to start
Post Workout Cool down & Mobility 20 min